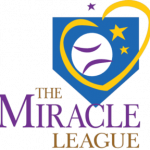 The Miracle League is a nonprofit organization that provides opportunities for individuals with disabilities to play baseball in an inclusive and supportive environment. It operates in various cities across the country, offering accessible fields and accommodating rules that allow everyone to enjoy the sport of baseball, regardless of their physical or cognitive abilities.

We welcome everyone to our organization regardless of age or skillset. If you want to play baseball, this is the place to do it. We don't turn anyone away.
- Mike Rubino, GPD Program Manager & Miracle League Board Member
But it's more than playing a game. The Miracle League is about making new friends, building self-esteem, and being treated just like other athletes. The Miracle League serves children and adults who suffer from any physical or mental disabilities that cause them to be excluded from conventional Baseball leagues, whether intentionally or not.
The GPD Employees' Foundation is proud to have supported the Miracle League of Northeast Ohio over the years through our grant program. Mike Rubino, a Senior Program Manager and 20+ year member of the Miracle League and GPD team has dedicated much of his time as a devoted member of the Miracle League. As a board member, Mike plays a key role in ensuring the organization continues to flourish. We can only anticipate more remarkable achievements and heartwarming moments for the individuals and families who benefit from this league. Learn more about Mike's experience below:
Check out the Miracle League of Northeast Ohio website to learn more: https://www.miracleleagueofnortheastohio.com/