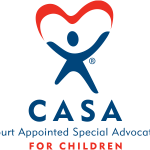 CASA of Summit County is a non-profit organization that focuses on advocacy for abused and neglected children in the court system. A CASA is a court-appointed volunteer who gets to know the children and the families through home visits, interviews with family and friends, and court visits. They then offer their observations from those experiences to the court system as an additional resource to determine whether the child should live with their family or in foster care.

There's over 1,900 children who are victims of abuse or neglect every day and they all need a voice.
The GPD Employees' Foundation is proud to have supported CASA of Summit County over the years through our grant program. In the fall of 2022, CASA participated in GPD Employees' Foundation's first-ever "Non-Profit Fair," which brought together 20 Northeast Ohio non-profit organizations in a "career-fair" style event. The nonprofits spoke with GPD employees about what they do in the community with the hope of raising awareness and gaining volunteers.
While many employees at this event learned about the impacts that the organizations are making in our community, one employee had a special connection with CASA's mission. Robyn Glomb, a Permit Coordinator and 7-year member of the GPD team was inspired by her conversations with CASA and decided to take action and become a CASA herself. Learn more about Robyn's experience below:
"Had I not attended the GPD Non-Profit Fair, I would have never found this path, this journey, to help the lives of children."
Check out the CASA website to learn more: https://summitcasagal.org/